Diet plays a critical role in a woman's risk for breast cancer. Daily foods with bright colors are not only appetite-appealing, they can also be quite therapeutic, as research reveals that colorful fruits and vegetables are powerful weapons to fight breast cancer.
Two categories of dietary nutrients with bright colors are fruits and veggies that are red or orange/yellow.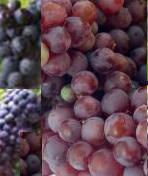 Think Red.
Red grapes, red grape-derived products such as grape juice, and red wine are rich in resveratrol, a health-beneficial antioxidant that protect against breast cancer in both animal and human studies. Also, resveratrol offers cardiovascular protection. It's important to remember that red and dark red grapes contain higher levels of resveratrol than green grapes and red wine.
I love sweet red grapes. I often eat red grapes as a snack or desert and incorporate them in my salads. To enjoy this nutritious red fruit, follow your taste and deploy your creativity.
Think Orange and Yellow.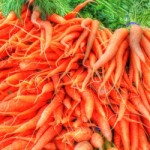 Fruits and veggies with vibrant orange, yellow, and red colors are rich resources of carotenoids, organic pigments, micronutrients and antioxidants. These foods include carrots, sweet potatoes, winter squash, and red peppers, plus some greens like spinach and kale. Research shows that eating plenty of these fruits and vegetables can be particularly beneficial for women at risk of non-estrogen-dependent cancer and those with a genetically increased risk for cancer.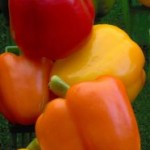 There are many ways to increase your daily consumption of bright-colored, plant-based foods. You can use them in fresh salads or sandwiches for lunch and prepare steamed or stir-fried veggie dishes for dinner. Whatever way you choose, these healthy treats are quick and easy to prepare, and they are yummy. Similarly, regular ingestion of tomatoes does good to you, because tomatoes are a wonderful source of lycopene, one of carotenoid compounds.
Keep in mind that carotenoid-rich fruits and veggies are low in dietary lipids that facilitate human absorption of micronutrients. Therefore, it's always wise to consume them with olive oil or avocado (i.e., healthy fat) to improve the carotenoids' bioavailability.
Conclusion
Not only can a colorful diet of fruits and veggies reduce your breast cancer risk, it can protect you from other major human diseases and positively affect your mental and emotional levels. Just remember: rainbows on your plate help create a healthy rainbow in your life!
Image credits: by redvisualg; DeLaMartre; and awottawa