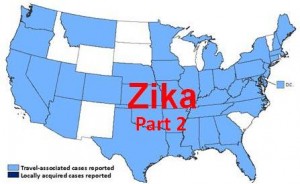 Zika virus continuously poses a public health threat in the U.S.. Since my last post "Zika Virus Infection and Cancer Care Indication", as of August 24th, 29 people in Florida have been infected with Zika virus through local mosquito transmission, along with 2,487 travel-related cases across the country, according to the CDC.
This is a more alarming reality than that presented three months ago when all 544 Zika cases in the U.S. were travel-related. Regions along the Gulf Coast are at an elevated risk for Zika outbreak, especially Louisiana, because of recent devastating flooding.
Pregnant women are particularly vulnerable to the Zika crisis. Of importance is to avoid traveling to Zika outbreak areas and stay self-protected to prevent mosquito bites. I won't get into details here because plenty of information or guidance is available elsewhere.
Based on some new research and clinical findings, I'd like to emphasize FIVE reasons why we need a higher alert and responsiveness to Zika infection. Here goes:
1.      There are various ways for Zika virus transmission.
A person who has acquired the Zika infection could pass virus along through mosquito bites, maternal-fetal and/or sexual transmission. Unmistakably, blood transfusion also becomes a major concern as Zika-positive blood donation is evident. That's why the FDA recently recommended nationwide screening of blood donations for Zika virus. Thank about it – why is it necessary to run such a costly and time-consuming testing for a massive blood donation system? Remember that people infected with Zika virus could be symptomless.
2.      Zika virus can damage not only a baby's brain but also an adult's brain cells.
Painful scan images have shown that Zika infects a fetus, causes brain calcification, and destroys a baby's brain. Severe brain damage may bring about long-term developmental problems or neurological complications affecting vision, movement and epilepsy. On the other hand, new research reveals that Zika virus impacts a different area of adult mice's brain, such as a specific neural cell, and it could affect long-term memory in some adults.
3.      Zika virus affects the immune response, particularly in those whose immune system has been compromised due to a chronic disease or cancer therapy.
Infections by viruses can suppress the immune system. Moreover, a person's inflammatory response to mosquito bites may augment the severity of arbovirus infection (e.g. Zika). Studies suggest that mosquito bites, especially in individuals hypersensitive to mosquito bites, may be linked to cancer development through activating cancer cellular pathways by mosquito-feeding, and/or through influencing human metabolic pathways leading to the initiation of cancer.
4.      It's challenging to control mosquitoes.
Mosquito population is measured in the millions, and usually in the hundreds of millions. There is no way to distinguish Zika-infected mosquitoes from the rest uninfected. It's virtually impossible to eradicate them all. But it doesn't mean we should give up our effort.
Aerial spraying and backpack fogging carried out by the professionals can help reduce mosquito populations in epidemic areas. There are also effect measures that individual citizens can take right at home or the backyard with little or no cost. For instance, the best ways to control local mosquito population is to eliminate the places where mosquitoes breed, such as water-filled buckets, flowerpots, containers, puddles or pools of standing water outdoors.
Using pesticides to kill mosquitoes is delicate. Be cautious about unintended consequence, because pesticides often contain some toxic chemicals that can be harmful to human health if inhaled or ingested. 
5.      Finally, keep in mind those young women whose newborns suffering from microcephaly, neurological abnormalities and birth defects. What would their hardship be? – raising their ill babies, caring for the infants with various disabilities, and likely dealing with their own stress, anxiety, depression or quality of life.
Image credit: physio-pedia.com and CPD