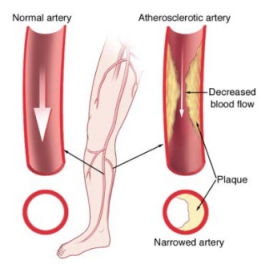 By Hui Xie-Zukauskas
For those who may be unaware of what cancer and heart disease share in common, today I wish to remind you of why I talk about cardiovascular diseases. When I started this website, with its focus on cancer prevention, I had a well thought-out approach to maximize your benefits for heart health as well. To put it simply, there are many practices that will help you "kill two birds with one stone"—both cancer and heart disease.
So today, let me elaborate on cardiovascular risk factors that a cancer-prevention lifestyle can help allay.
First, let me ask you, Do you know if you have peripheral vascular diseases (PVD) or not? About 20 million of people in the United States are suffering from PVD, yet they don't even know it. What does that have to do with cancer prevention? Please read on.
What is PVD, and what is PAD?
Almost everyone knows about atherosclerosis. Well, PVD is one of the major clinical complications of atherosclerosis. It affects blood vessels outside of the heart and brain, e.g. those of your body's extremities.
When PVD only develops in the arteries, it is usually called peripheral arterial disease (PAD), which results in reduced blood flow to the lower extremities. PAD is predominantly caused by the buildup of fatty plaque in small arteries, resulting in the narrowing of those arteries, blocking blood flow from the heart to the legs. Consequently, the hallmark of PAD is extreme pain or painful cramping in the legs.
However, many folks with PAD experience no symptoms. That is why it is important to raise public awareness.
PAD and aging
PAD is neither a men's nor a women's disease—it is more of an aging disease. According to the NIH and CDC, one in every 20 Americans over age 50 has PAD, and approximately 12-20% of people older than age 60 have it. By age 80, 20-25% of Americans have PAD.
What are the risk factors for PAD?
So far, we have covered two already:
Other risk factors include:
    Smoking
    Diabetes
    High blood pressure
    High cholesterol or abnormal cholesterol – too much "bad" LDL cholesterol and too little "good" HDL cholesterol
    Being overweight or obese
    Family history of high cholesterol, high blood pressure, or cardiovascular disease (stroke, coronary artery disease, or PVD).
    Stress
What does learning about PAD have to do with cancer prevention?
The table below shows the risk factors that cancer and PAD have in common.
| | | |
| --- | --- | --- |
| Risk Factors | Cancer | PAD |
|  Aging | √ | √ |
|  Tobacco use / Smoking | √ | √ |
|  Obesity | √ | √ |
|  Being physically inactive | √ | √ |
|  Inflammation | √ | √ indirectly, because it's linked to atherosclerosis |
|  Stress | √ | √ |
|  Diabetes | √ | √ |
|  Junk diet (high fats, high sugar, excessive salt) | √ | may lead to other risk factors above |
|  Hormonal imbalance | √ | |
Without distracting from today's focus, I have addressed each of risk factors in previous CancerPreventionDaily Summer Health Education Series, and you can learn more by visiting CancerPreventionDaily.com
What's the take-away message?
PAD is under-diagnosed and lacking in public awareness, yet its incidence increases with age disturbingly.
Make a cancer-prevention lifestyle your priority. Lifestyle modification is one of the keys to controlling and preventing PAD as well as cancer.
Take action using the "Five Seconds Rule"—meaning that whether you consult with your physician or change one unhealthy lifestyle habit, take one small step at a time and do it now!
Image credit: CDC