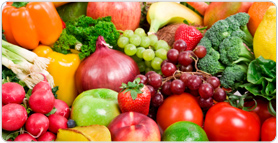 Have you ever gone for grocery shopping, wondering how to take advantage of natural foods for your UV protection? Or you might be just thinking loud "Help me – Help me with a shopping list for natural resources of antioxidants that fight UV and Sun damage!"
Hey, this is a health-smart idea or initiative. After all, UV radiation causes DNA damage leading to skin aging and skin cancers. Although the skin holds many protective mechanisms against UV damage, the combination of accumulated exposure and UV-induced immunosuppression can overwhelm the skin's natural defense. There are a myriad of natural resources for your protection.
To combat UV's harmful effects and strengthen your skin defense, I'm going to put seven types of super foods and nutrients on the spotlight in this post, and talk about how they provide UV protection.
1.      Carotenoids
Carotenoids micronutrients can scavenge free radicals that cause DNA damage to skin, and protect skin injury and/or problems resulting from sun damage and UV radiation. In general, colorful veggies and fruits with bright natural pigments are signals of carotenoids-rich foods, such as carrots, red, yellow or orange peppers, and oranges.
2.      Lycopene
Tomatoes are lycopene-rich super food; and lycopene can neutralize the harmful effects of UV light by scavenging skin-damaging free radicals. Additionally, tomatoes also contain beta-carotene and vitamin C. In the summer, as well as in all seasons, it is so easy and refreshing to include tomatoes in virtually any dishes from salad to pizza and side dish. Grape/Cherry tomatoes can be excellent snacks!
3.      Resveratrol
Resveratrol has antioxidant, anti-inflammatory, anti-aging, and anti-viral properties. It also exerts cardioprotective, neuroprotective and analgestic actions. Research shows that resveratrol can regulate cellular activities in response to radiation and thus minimize UV radiation-initiated damage. Furthermore, resveratrol can neutralize free radicals generated from UV rays and counteract their harmful effects. Grapes are an superb source of resveratrol. Other foods containing resveratrol include wine, grape juice, cranberries, cranberry juice, and peanuts.
4.      Flavonoids
Dark chocolate is a wonderful source of flavonoids, which is well known for the protective benefits of the heart and blood vessels. Interestingly, research also suggests that dark chocolate protects the skin from sun damage. So, give yourself a treat or an excuse to consume it regularly, but not excessively. In addition, flavonoids-rich natural cocoa butter helps preserve skin's elasticity and moisture.
5.      Green tea
Green tea is loaded with polyphenol antioxidants, which have protective effect on UV-induced skin inflammation, oxidative stress and DNA damage. Green tea is also rich in catechins, which are known to have extremely powerful antioxidant properties. A cup of iced green tea in hot summer days serves as not only a beverage to ensure adequate hydration and promote youthful skin, but also a guard to prevent UV-induced DNA damage and reduce skin cancer risk. Green tea can be a great substitute for Coke or other sugar-packed soft drinks.
6.      Salmon
We all know that salmon provides an excellent source of omega-3 fatty acids. However, do you know that salmon helps build your skin defense? Research shows that Omega-3 essential fatty acids may protect skin damage and premature aging from UV radiation, this is because salmon also contains astaxanthin, a powerful antioxidant that can scavenge free radicals produced from the skin after sun or UV exposure. Additionally, astaxanthin helps alleviate the pain and inflammation associated with sunburn.
7.      Greens
Go greens! And you'll never go wrong. Green leafy veggies are delicious, nutritious, and they help protect your skin damage from sun and UV radiation. Greens are the great sources of beta-carotene, lutein and zeaxanthin, vitamin C and E – a full spectrum of carotenoids micronutrients and vitamins.
Certainly, dietary intake of antioxidants in terms of UV protection is considerably slower than topical application achieved by using sunscreens. However, an optimal supply of natural antioxidant micronutrients in the skin can enhance skin antioxidant defense against UV radiation damage, support your long-term wellbeing, and maintain your skin health and glowing appearance.
I hope that today's grocery checklist is valuable for your UV protection and particularly beneficial for people at the greatest risk of skin cancer and other cancers as well.
Image credit: by Fruits-Veggies_4566