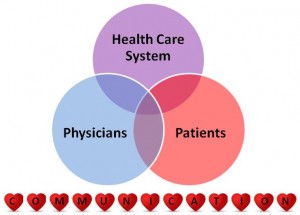 Have you or your family member ever gotten a wrong diagnosis from your doctor? Have you heard that a doctor treated your friend for a disease or disorder that he/she actually didn't have? "It is likely that most of us will experience at least one diagnostic error in our lifetime, sometimes with devastating consequences," according to the experts on diagnostic safety.
Imagine you were diagnosed with breast cancer and went through cancer treatment, then found out the diagnosis was wrong and the treatment should never have happened. That could spell enormous damage from one diagnostic error!
Cancer diagnostic errors can be the most harmful and costly type of diagnostic errors in various ways. As many cancers are complex and multifaceted, a timely and accurate diagnosis for cancer is still often challenging. That adds weight to preventing cancer altogether and urgency to detecting cancer early.
That's why I bring your attention to this issue: A diagnosis is something that's done for a patient (you) and the patient (you) needs to be a part of the team in that process.
1.      Basics and facts
What is a "diagnostic error"?
The Institute of Medicine (IOM) defines a diagnostic error as the failure to:
a. Establish an accurate and timely explanation of the patient's health problem(s); or
b. Communicate that explanation to the patient. 
What is the reality?
40,000 – 80,000 deaths each year are due to diagnostic errors, as reports vary. However, national diagnostic safety experts, Drs. Graber and Schiff, emphasize that the frequency of diagnostic error is in the range of 10%.
Does it sound like misdiagnosis happens far more frequently than you thought?
2.      When does diagnostic error occur and who may be involved?
No doubt, human factors contribute to diagnosis errors. Studies have reported that communication problems are the most frequent root cause of serious events threatening patient safety. Today's health-care systems are transforming toward not only integrated care practice but also enhanced patient engagement, to this end, everyone is involved.
Let me bring cancer diagnosis to the forefront. A delayed cancer diagnosis may occur at various stages of the journey to fight cancer. It could be a delay in:
symptom recognition or interpretation,
decision or action to seek medical attention (e.g., putting off making an appointment due to fear or feeling embarrassed),
a care system's scheduling (e.g., not being seen by a doctor in a timely fashion),
clinical tests or subsequent consultations, or
receiving cancer treatment.
In addition, putting off doing anything might simply be due to lack of insurance coverage.
Here is the key point: Delayed cancer diagnosis at an early stage may leave the cancer to progress or spread, leading to limited treatment options. Thus, a delay in cancer diagnosis can have devastating consequences, including poor clinical outcomes and a lower chance of survival.
3.      How can you help reduce or prevent diagnostic errors?
Here are 15 things you can do to enhance your communication with your doctor, medical care team, and health care system.
1)      Prepare for your visit: know or collect your medical records, medications, and family history.
2)      Remember your screenings and, importantly, follow up. Having a separate calendar can assist your memory.
3)      Always bring a list of questions or at least your top three questions when visiting your physician.
In case you don't know where to start, Agency for Healthcare Research & Quality provides a list of questions to ask your doctor. You can also generate your own list using their Question Builder. It's a fantastic tool!
4)      Bring your spouse or a family member to your doctor visit to facilitate communication and/or fill in missing information that might help with diagnosis or treatment.
5)      Use technology (e.g., a smartphone) to record the conversation or instructions.
6)      Feel free to ask the doctor to clarify terminology or procedure. If you don't understand why a particular question is relevant to your situation, ask about it or let a family member do so.
7)      If you have a limited English proficiency, make sure you have a family member or a friend act as a translator.
8)      Participate in a patient experience survey to improve patient safety and care.
9)      Get involved in facilitating the chain of communication—e.g., in scheduling appointments, visits, follow-ups, and even questioning an insurance billing if you don't understand it.
10)  Don't self-diagnose, especially based on online information from an unreliable source.
11)  Do keep a diary or inventory of your symptoms for better recollections when needed.
12)  Seek a second opinion or multiple consultations on cancer diagnosis when in doubt or if necessary. The second opinion must be an expert's one. Be proactive.
For example, if you have a lump in your breast but get a normal mammogram—after all, mammograms pick up only 80-90% of breast cancer. So, for your safety, you should ask for further screening, e.g., a breast ultrasound (sonogram) or even a test with a higher sensitivity like magnetic resonance image (MRI) to ensure accuracy if your physician doesn't order such tests.
13)  If diagnosed with cancer, follow up vigorously and treat any referrals to specialists, tests, or care with urgency.
14)  Further the discussion about potentially discrepant diagnosis or different finding.
15)  When you have unintentional weight loss or unexplained pain, take it seriously and see your doctor.
One more point – Misdiagnosis may not be discovered for years if ever in some cases. That's why I cannot emphasize enough how prevention and early diagnosis of cancer offer clear and significant benefits, especially concerning common cancers (the breast, prostate, colon, lung, and skin cancer).
Although I talked more about cancer, these principles can be applied to any other illnesses. And I'll elaborate with more details in near the future. Stay tuned.
Finally, your take-home message: Actively engage in your health care!
Improving diagnosis for patient safety and for better health care is a responsibility of each of us. Doing that can alone save many lives.