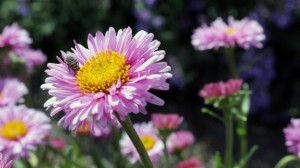 Flowers are blooming and birds are singing as spring arrives after a long winter. Spring cleaning is a buzzword now. Some people are excited about cleaning for fresh and renewed homes; in contrast, others see spring cleaning as a daunting task and feel overwhelmed even just running down a long checklist. Either way is understandable.
Here is the point: spring cleaning doesn't have to be one-size-fits-all, and you can gain cancer prevention benefits out of different kinds of spring cleaning. You will know why after reading the novel yet actionable ideas and strategies I outline here.
1.     Manage spring cleaning with a workable goal.
It's desirable all rooms and corners of your house spotless, but it's not a must. So, setting a priority (e.g., the kitchen or bedroom) can be very workable, especially when time is not on your side. Furthermore, your goal is more achievable when you make spring cleaning a family function. A bonus is that working together as a family helps foster responsibility for kids. It's of course important to do chemical-free cleaning (e.g., e-cloths, baking soda, and vinegar) if you can.
2.     Clean out junk foods to optimize your heart health and for cancer prevention.
Go to your refrigerator and your pantry and you will likely find foods or drinks containing some cancer-causing ingredients such as:
Trans fat: it increases your bad cholesterol (LDL) and at the same time lowers your good cholesterol (HDL). Therefore, it is not only a double whammy on your heart, but also a fireball for inflammatory diseases such as cancer.
Sweeteners: commonly used aspartame causes various illnesses from birth defects to cancer.
High-fructose corn syrup (HFCS) or refined sugar: cancer cells have sweet teeth!
Genetically-modified organisms (GMOs): both GMOs and the chemicals used to grow them have been shown to promote tumor growth.
Processed meats: they contain cancer-promoting agents like sodium nitrite and sodium nitrate.
Canned food containing BPA.
3.     Clean mental clutter to lower stress and enhance immunity.
Get rid of stress.
Get rid of negative thoughts, worries, and self-doubts.
Take a yoga class, a bath, or a walk; treat yourself to a massage or go out for lunch or dinner with a friend; whatever works best as a stress reliever for you, just do it.
4.     Clean your mouth to reduce oral cancer risk.
 Quit smoking.
 Avoid alcohol.
 Make a daily habit of brushing and flossing your teeth.
 Schedule a dental cleaning and oral cancer screening.
5.     Clean the fat in your body to gain long-term health.
Obesity is a risk factor for certain cancers, in addition to increasing the risk for cardiovascular disease and diabetes. So, by promoting fat breakdown, you may compensate certain aspects of obesity that cause diabetes. Certainly, you cannot gain a healthy weight overnight, but you do have options to modify your diet and lifestyle starting with cleaning out junk foods and taking actions such as:
Stay away from high-fat and high-sugar foods.
Start or continue a balanced diet rich in fresh veggies, fruits, proteins, and fiber.
Burn some fat by exercising and being more physically active.
Drink more water or tea instead of sugar- or sweetener-rich drinks.
6.     Clean the air to remove pollutants that cause cancer and allergies.
Check for and remove asbestos, a lung cancer-causing agent.
Test for radon level while increasing ventilation in your house. Radon is a radioactive but colorless, odorless gas.
Install an air freshener, which is a great aid to cleaning indoor pollutants.
7.     How about "digital cleaning"?
In this digital age, our lives are influenced by digital devices in many ways. "Digital hazards" can affect your health more than you may realize. You can help detox yourself from them simply by doing the following:
Clean your inbox. This can be a jump start of a "digital detox." Eliminate all junk mail, and if possible stop those pesky unwanted emails from arriving in the first place. Delete old and useless email, and organize your inbox in more efficient ways.

Clean out all electronic wastes, such as old cell phones or other electronic devices, and take them to a safe disposal location designated by your local government. Donate your old computer to a cause if it's still functional.

Clean viruses, spyware, and malware that may be in your computer. Backup your files and organize your passwords – whatever you do to make your computer run faster and less vulnerable to cyber threats, it will make your stress level lower and your life easier.
Keep your bedroom free of iPads, iPhones, and other digital devices as much as you can, because they are hazards to your snoozing, and consequently your health.
Of course, you can do more beyond these lists, but you get the idea.
I hope these strategies provide valuable insight into some small, easy, and quick steps you can take towards lowering your cancer risk. Spring or anytime cleaning of the areas outlined here can be a great strategy for cancer prevention and other health benefits.
Image credit: by Pexels