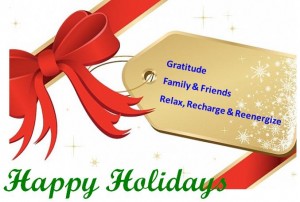 Holiday time can be both joyful and overwhelmingly stressful. What is on your mind? Consider the following TOP FIVE thoughts and tips:
1. Gratitude – It's the best attitude!
Gratitude implies both the thankfulness to others for their aids in any way and a conscious, habitual focus on all positive aspects of life. Many Americans are stressed over traveling, gift shopping, cooking, disappointing (for various reasons) and debt. Counting blessings has a proven favorable effect on the human well-being.
2. Family and friends – Bonus is Fit!
Forget about work, stress, and any negative feelings, let your heart and spirit go with those of your family and friends, enjoy love, laughter, happy memories and fun time. One of the big challenges is health. Unhealthy diet and large portions of food, time on the couch, drinks and comprised sleep can all add up to a toll on your weight gain. Finding a way to move or boost your physical activities is very beneficial. For those weight-loss enthusiasts, how about losing 1-2 pounds over the holidays instead of gaining more?
3. Cancer care family
Individuals who are diagnosed, suffering or survived cancer, and those who want to fight or prevent cancer are all in one family. If you are a cancer patient or a cancer survivor, take it easy and enjoy simple pleasures or people around you. If someone close to you has cancer or you are a caregiver, take care of yourself and delegate more. If you have lost a loved one, the holidays can be understandably more difficult. Feel free to express your emotions and work through grief slowly. Remember, you're not fighting cancer alone and you don't have to cope with your loss alone either. You are in our thoughts and prayers.
4. Time for yourself
This should genuinely apply to everybody. Loving what you do is a blessing, whether it is your career or your pleasure or leisure. So, make sure to set aside some quiet or alone time for yourself, relax, recharge and re-energize or renew yourself.
5.  Heartfelt thanks for our military and their families.
Remember our military soldiers and families as well as veterans for their sacrifice to protect our country and our safety. While it's understandable that Americans get concerned and anxious over national security, let's transform fear and restlessness to gratitude and goodness by showing appreciation and helping them in any way we can. We can also contribute to peace and help end all forms of suffering of mankind.
Best wishes for a warm, wonderful Holiday Season & a healthier, happier 2016!