Do you or your loved ones have any hereditary cancer? Facing hereditary cancer can be challenging. The passing of family members is devastating, and the possibility of getting this "C" makes you feel fearful, sad, frustrated, powerless or even angry. Staying very emotional is understandable, but won't fix the problem.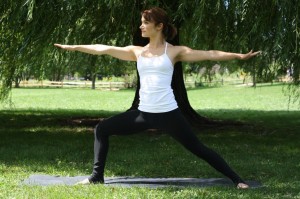 Today I'm going to show you one way to stay on top of this horrible "C" – a solution inspired by Yoga Warrior II.
Let's engage in this yoga pose first. As the warrior II image illustrates, you stretch one arm straight in front and extend the other out behind, with legs and feet stepping apart in a facing-forward position, while your body maintains steadiness and balance, being powered by the leg and core muscles' strength, with your gaze focusing ahead (just to give an idea for non-yoga goers).
In addition to its physical benefits, the mental or psychological aspect of Warrior II guides you to honor the past, to explore your future, and to strengthen your presence. Angelina Jolie has taken real-life Warrior II actions when facing her risk for hereditary breast cancer. She kept in mind the tragedy of losing her mother to breast cancer, and desires to stay around long for her children and the loved ones. Courageously, she pursued all she could do at the present. Angelina went for a genetic testing to find out her mutated BRCA1 gene, and then underwent a preventive double mastectomy to reduce her high risk of developing breast cancer.
Cancer risk factors come from foods we eat, water we drink, the environment we live, and the genes we inherit; the latter is considered out of our control. What Angelina has done is truly empowering not only for women dealing with hereditary breast cancer, but also for a boarder population; because breast cancer occurs in men too and men do get mastectomy treatment. This conveyed a message that you can take control of your health, including hereditary cancer, by taking preventative measures before it's too late.
So, what can you do now when it comes to the genetic susceptibility to cancer? Here are 8 practical tips:
1.      Consult your physician and get genetic testing. Genetic counseling is an essential step for any hereditary illness.
2.      Identify a medical or preventive treatment that's best for you. With the advance of new technologies and therapies, you have more options to choose, which opens up the horizon for your healthy future.
3.      Remember follow-up visit or care whether or not you have had any therapy.
4.      Explore insurance plans for the coverage of your cost. This seems non-therapeutic, but could be a determining factor for many folks to make an informed, life-saving decision.
5.      Cope with any change in your physical body, and manage side effects from your treatment. Keep informed on any related issues.
6.      Seek support when coping with fear, i.e. any fear of cancer diagnosis or cancer recurrence, so as to uphold your emotional well-being, which is vitally important.
7.      Live a healthy lifestyle, refraining from any known cancer risk factors such as tobacco smoking, alcohol, or toxic chemicals and carcinogens.
8.      Enjoy the moment!
See more Cancer and Hereditary Cancer
Image credit: By Brittany Becher