Imagine a fiber's tale. "I am a fiber, and my nickname is "Tough Carb". Together with my sibling soluble and insoluble kinds, I am largely wrapped up in foods like fruits, vegetables and whole grains. Passing through your body, I bind with fats, help nutrients get better absorbed, move the bulk through the intestines, and promote a faster traffic to eliminate the waste your body doesn't want. At the end, I still survive – remaining unbroken."
What a fabulous job done by a "personal healthcare agent"! Well, I have more good news for you – Research indicates that a diet high in fiber can lower colon cancer risk. Specifically, every 10 grams of daily fiber intake reduces the risk of colon cancer by 10%.
Now the questions are how much fiber you need each day and how you can meet your goal to prevent colon cancer? Here I offer 5 meal-strategies that can help you effortlessly incorporate fiber into your daily diet and support the healthier, happier colon.
How much fiber do we need?
It is recommended that we eat 25-35 grams (g) of fiber per day. Sounds impossible or difficult? Don't worry. A rule of thumb is – consume at least 5 servings of fruits and vegetables and 3 servings of whole grains each day. This is based on the fact that fiber is abundant in whole grains, fruits and vegetables, nuts and legumes.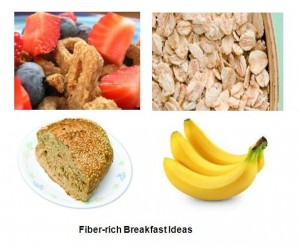 How do you integrate 25-35 g of fiber into your diet on a daily basis?
Here are 5 meal-strategies to get your 25-35 grams each day with ease:
1. Breakfast: Have oatmeal or high-fiber cereal, fiber-rich breads or English Muffins, and more desirable, add fruits.
Breakfast is the most important meal of a day. However, many people skip it. Think about this. A cup of rolled oats (dry) contains nearly 10 g of fiber, and Quaker Instant Oatmeal (3 g of fiber per pack) is also available in all grocery stores. So, if you have 2 packages of oatmeal (6 g of fiber), a slice of whole wheat bread (5-6 g of fiber per slice; depending on brands), and add some fruits like berries, bananas or raisins to your cereal or oatmeal (extra 1-2 g fiber), you've got a nice jumpstart, and it's not hard. Plus, a bonus gain – fiber can boost your energy for a fantastic day ahead!
2. Lunch: Eat plenty of veggies and beans. Use whole wheat or whole grain bread to make your sandwiches. Have an apple as a part of salad or desert. Broccoli, one of anti-cancer foods, holds a good supply of fiber; 4.0 g per ½ cup (raw), 5.0 g in 4 spears (frozen) and 9.3 g per cup (fresh, cooked). Beans and fish (esp. salmon) are also excellent protein sources to replace animal meat.
3. Dinner: Eat whole-wheat pasta, brown rice or potato (with skin), plus a variety of vegetables and olive oil. Add beans to your soup. Do you know cooked black beans contain 19.4 g of fiber per cup? How about whole-wheat pasta with chicken and colorful veggies?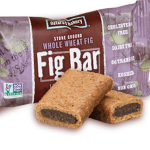 4. Snacks: Take All-bran, Multi-grain crackers or high-fiber bars, fresh or dried fruits, as well as nuts and seeds, when you on the go. Fig is one of the highest fiber sources. Try Nature Bakery's Whole Wheat Figgy Bars or Whole Wheat Blueberry Figgy Bars, they are individually-wrapped, delicious, and reward you another 2-4 g of fiber (2 g fiber per serving, 2 serving per pack). (But I'm not paid for "Ads".

)
5. Drinks: Drink more fruit/Veggie juice (fiber-rich) or soy milk (1-1.5 g of diary fiber in per 8 oz cup). See Martha Stewart's recipes of making delicious green juice at home, which are affordable too.
Eventually, it's your choice to include foods you desire. But the key is to eat a lot of fiber-rich foods (i.e. plan-based food).
Some folks consider that healthy foods taste boring, especially those from the grocery stores. I sympathize that, and the fix is – to get fresh fruits and vegetables from your local farmers' market; those foods are yummy and refreshing!
As a final note, a balanced, fiber-rich diet is not the only tool to prevent colon cancer; exercise should go hand-in-hand with it.
Image credit: By aaronsg, quakeroats.com, rachelg, lockstockb, and naturesbakery.com