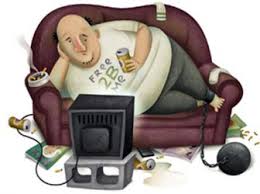 Do you know — Approximately 25% of all cancers worldwide can be attributed to obesity and a sedentary lifestyle?
In my last post, I show you how to stay physically active — an approach to keep your New Year's Health Resolution alive. Today, I'd like to emphasize why sedentary lifestyle has deleterious health consequences; particularly, it increases your risk for several cancers.

How do you define sedentary behavior?
Sedentary behavior is characterized by spending a majority of one's waking hours sitting or lying down. Sedentary activities are increasingly seen in our daily lives in modern society, ranging from leisure (e.g. watching TV, lying down to read, playing video or online games, and parking your body in the car for a long commute to work or road trip) to occupation, such as sitting all day in the office or working on a computer for several hours.
Distinctly speaking, just because you meet or even exceed physical activity recommendations, it doesn't mean that you are "sedentary-behavior-free". For example, if you exercise for 30-45 minutes a day but spend the rest of day in sedentary activities, only ~3% of your day is physically active. As recent studies suggest, sedentary behavior may be a novel health risk factor independent of moderate to vigorous physical activity.
Also see Physically Active, Physically Inactive, or "Active Sitting Potato": Where Do You Fit in? 
How does sedentary lifestyle increase cancer risk?
Emerging evidence points to a link between sedentary behavior and risk for several cancers. Scientific research has shown that sedentary behavior is associated with an increased risk for colorectal, gastric, breast, ovarian, endometrial, and prostate cancer.
Sedentary behavior can cause changes at the cellular and metabolic levels, which may contribute to the development of cancer. These changes include:
Overweight or obesity, which is linked to several cancers. Obesity is also viewed as a condition of systemic inflammation.
Altered production of sex hormones, which plays a role in breast and prostate cancer.
Higher blood sugar, which cancer cells use as a fuel to grow and proliferate.
Lower vitamin D, which may increase a risk for some cancers.
Increased chronic inflammation, which may contribute to some cancers. Specifically, increased inflammation-causing factors and decreased anti-inflammatory factors may lead to a higher cancer risk.
What is more?
Sedentary behavior (too much sitting) is also a risk factor for cardiovascular disease, obesity, type-2 diabetes, and for death due to other illnesses, leading to shorter life expectancy. On the whole, physical inactivity is one of important causes of most chronic diseases including cancer.
In contrast, physical activity can reduce the risk and progression of several cancers. Staying physically active primarily prevents and/or postpones many chronic illnesses, and gain longer life expectancy.
Related topic: 10 Strategies to Keep a New Year's Resolution for Staying Active
What's your practice for "sit less and move more"? Thanks for sharing!
Reference from B.M. Lynch: Sedentary Behavior and Cancer. Cancer Epidemiol Biomarkers Prev. 2010;19:2691-2709.
Image credit: by nationalnursingreview.com; dailymail.co.uk; healthcureview.com; and howtoplaza.com