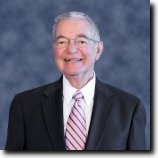 This past weekend we gathered together to celebrate Dr. Ronald Eugene Higginbotham's life after he passed away due to bladder cancer. A cancer diagnose is devastating and the battle to fight cancer, unthinkable. Cancer affects all of us at many levels or in many ways. Reflecting the perspectives on what cancer can and cannot do may ease our pain a little.
When cancer took a loved one's life, many times it can make us feel like an everlastingly loss. This memorial service provided a vital reminder of Ron's life and the person we know – a loving husband, father and grandfather, a kind gentleman, an accomplished scientist and engineer, a dedicated church elder, a wise mentor, and a caring friend….
My heart was heavy as I thought of Ron and the blessings he brought to those around him. Yes, cancer damaged Ron's body and took his life. However, what cancer didn't and cannot take away from him may be included in, but not limited to, the following list:
His deep love to his wife and family
His genuine smile and the spirit of peace
His unwavering faith and devotion to the Lord
His kind acts that helped those people in need
The way he made everyone feel welcomed and special
The way he paused and greeted people silently before addressing the church attendants
The fun time he spent with his children, grandchildren and friends
The positive life he had lived
…
Importantly, all happy and precious memories that he left and we shared will be long-lasting.
Therefore, folks, whether you're fighting cancer right now or you've survived cancer – also loved ones, families and friends, let us comfort each other with this great reminder: Cancer cannot take all away from us – including love, peace, spirit, faith, courage, values, characters, memories, and so much more. After all, our hope and effort to cure cancer cannot be taken away!
Image credit: http://manassaschurch.org/index.php