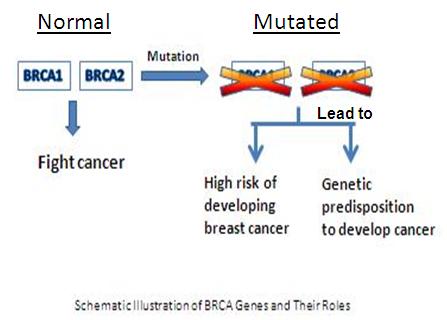 For breast cancer awareness, it's important to do something beyond wearing "PINK in October." So today, I'd like to focus on two factors related to breast cancer: genetics and energy.
First, let me use a simple diagram (as seen here) to illustrate how a mutation of BRCA genes is linked to breast cancer.
BRCA1 and BRCA2 genes are cancer suppressors. Their function is to protect a cell from developing cancer, thereby helping you fight cancer. When either of these genes becomes mutated, it no longer functions properly. As a result of unrepaired DNA damage and impaired genetic integrity, cells are more likely to grow uncontrolled to develop cancer, like a car racing on the highway without brakes.
Each of us has BRCA1 and BRCA2 genes, both women and men, because BRCA is not a sex-linked gene. The mutation can be inherited from either parent. For women with a BRCA mutation, the lifetime risk of breast cancer is approximately 80%, and the chance of ovarian cancers is 54%. Men may carry the BRCA mutation, but have a lower risk.
Among approximately 200,000 breast cancer cases each year, BRCA gene mutation accounts about 10 percent of them. So, clearly here there is a promising area for treatment and prevention.
Next, let's approach the topic from the viewpoint of energy.
"Energy" in Traditional Chinese Medicine (TCM) is termed "Qi." Everything is energy at both the physical and spiritual levels. Essentially, the root of cancer is Qi related. There is a principle in TCM – "Flow of Qi makes flow of blood; Qi stagnation causes blood stagnation," which implicates clots, masses, tumors, and illness.
How can we use positive and healing energy to prevent or cure cancer? Here are 8 ways:
Makes our immune system strong. Our immune system is our powerhouse to fight cancer. That's why scientific innovations tap into the body's immune system to destroy cancer cells. When cancer overwhelms your body's immune capacity and healing power, it is a tragic ending.
Take care of your emotions. Keeping a positive outlook on life will boost your positive energy, because stress is one of risk factors for breast cancer. Anger, fear, sadness, and worry affect your Qi negatively, but happiness and socializing build up vibrant Qi.
Foster gratitude. Devote time (at least a few minutes a day) to appreciate what you have, even the "small things". Doing so will boost your positive energy!
Go for a nutrient-packed diet. Consume fruits and vegetables and other foods with high fiber, low fat, and low sugar, because nutrition boosts both level and quality of your energy. Alcohol, animal fats, and processed foods do not.
Exercise regularly. Be physically active, because it keeps Qi moving and blood flowing!
Maintain a healthy weight. The key to weight management is energy balance. Obisity is energy imbalance and contributes to the risk of breast cancer. Healthy weight plays a role in lowering the risk of cancer and that of cancer recurrence.
Be vigilant about early detection! Get a genetic screening to identify BRCA gene mutation, and start treatment early. Doing so will help protect your vital energy.
Prevention, prevention, and prevention. Preventive care keeps your energy moving in the right direction. We all know that prevention is better than cure.
To sum up—
Breast cancer prevention is for both women and men, and is a year-round practice. We cannot control our genes, gender, age, race, or family history. However, each of us can promote a healthy lifestyle to boost vibrant, positive energy to reduce breast cancer risk.