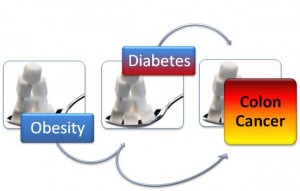 Colorectal cancer remains the 3rd most common cancer and is the 2nd leading cause of cancer-related deaths in the United States.
The causes of colon cancer are multi-factorial. They include cellular, molecular, and genetic factors, as well as dietary and lifestyle factors. Today, I'm going to focus on one significant yet modifiable risk factor, obesity.
We start with a glimpse at the numbers.
The incidence rate of obesity is alarmingly high among U.S. adults based on CDC data. Rates for different age groups include middle-aged (40.2%), older (37.0%), and younger (32.3%). Also, about 17% of children and adolescents (age 2-19) are obese.
More than 29 million adults and children in the U.S. have diabetes. 86 million Americans have pre-diabetes, a condition that can lead to type-2 diabetes. Note that an estimated one in two seniors has pre-diabetes.
Obesity may be a factor in approximately 300,000 deaths each year. Diabetes will cause an estimated 75,578 deaths and colorectal cancer, an expected 49,190 deaths in 2016.
A look beyond the numbers

Obesity is a leading cause of diabetes, a disease for which the body fails to control blood sugar levels. High blood sugar levels are characteristic of both obesity and diabetes. What is less well known is that diabetes and obesity are also linked to an increase in cancer risk.
In fact, obesity is linked to many types of cancer (colon, esophageal, thyroid, breast, prostate, uterine, kidney, pancreas, gallbladder and non-Hodgkins lymphoma) and, needless to say, heart disease, stroke, and other chronic illnesses.
Research shows that obesity and diabetes are associated with an increased risk of developing colon cancer.
Intrinsic links between obesity, diabetes, and colon cancer are vastly complicated. One clear tie is sugar. High levels of blood sugar are a characteristic in both obesity and diabetes. High blood sugar also makes us predisposed to cancer by increasing the activity of a gene involved in cancer progression. Apparently, dietary sugar is a link tying together obesity, diabetes, and colon cancer, and thus excess sugar has an impact on our risk for cancer.

Certainly, other links play a causal role. For instance, chronic inflammation is a central process that likely leads obese individuals to an elevated risk of diabetes and colon cancer, which all three conditions share a common inflammatory loop participated by multiple cell signaling molecules, growth and nuclear factors.

Highlighted Call for Actions
1. Colon Cancer screening
If you or your loved ones turn 50, you all should begin screening for colorectal cancer and then continue getting screened at regular intervals. This is because colorectal cancer almost always develops from precancerous polyps (abnormal growths) in the colon or rectum. Colorectal polyps can be found by screening and then removed before they develop into cancers. Plus, any developing cancer can be found earlier by screening when treatment works best.
2. Diabetes Control
Early intervention is critical to preventing or delaying the onset of type-2 diabetes. Good news for our nation's seniors is that Medicare will extend coverage for pre-diabetes care. Check out the National Diabetes Prevention Program, a preventive health initiative via the Center for Medicare & Medicaid Innovation.
3. Healthy Weight Management
Nutrition and balance diet, weight loss, daily physical activity and healthy lifestyle are all beneficial for keeping weight down. Look for further details in CancerPreventionDaily earlier posts.
In brief, obese people are at a higher risk for developing cancer. Also, an obese condition is often resistant to chemotherapy regimens. The bottom line is that obesity prevention is a key life-saving approach.
Image source: CancerPreventionDaily