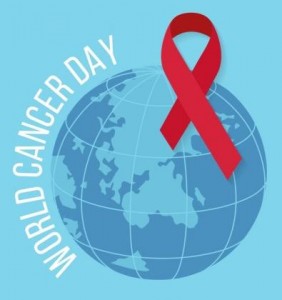 February 4th each year is designated as World Cancer Day. This day is significant because it
kicks off a drive to expand awareness of cancer and its prevention;
offers a chance to discover risk factors for cancer and take protective measures;
provides a time to reflect on what you can do to make a difference in the fight against cancer;
embraces people around the globe to fulfill whatever needs to be done to control this deadly disease; and
presents an opportunity to spread a message – We Can Save Millions of People from Preventable Deaths Each Year!
Lifestyle-centered cancer prevention is evidence-based and it's science. It's no longer a theory or hypothesis, or breaking news. Healthy lifestyle measures provide powerful ways to lower the risk for many types of cancer.
The theme of World Cancer Day for the current three years (2016-2018) is "We Can. I Can." Surely, each of us can do something, no matter how small. So, I have compiled a list of actions you can take for World Cancer Day and every day after:
Set a "Cancer Patients First" agenda: Whether from a note, gift, prayer, or—best of all—a visit, let your friend battling cancer know you are with him or her in this fight.
Pack a tool kit for cancer awareness or a thoughtful kit for cancer care.
Remind your loved one to get a cancer screening. Early detection saves lives.
Change one unhealthy behavior, e.g., harmful sun exposure, intentional tanning, alcohol abuse, or tobacco smoking (smokeless tobacco causes cancer too). Importantly, stay on the right course.
Do something about early childhood weight management, especially control obesity in childhood cancer survivors.  Unhealthy behaviors and overweight that develop early in life and persist over time can increase not only the risk for some types of cancer but also cancer-related mortality.
Host a Veggies/Vegetarian party or gathering (the size doesn't matter).  Alternatively, go on a Mediterranean diet. The point is to replace Western diet components, which are rich in refined grains, animal fats, excessive sugar, and processed meat but poor in fruits, vegetables, legumes, and whole wheat or whole grains. A substantial body of evidence has linked the Mediterranean diet to increased cardiovascular benefits and prevention of some chronic diseases.
Make a "Cancer Prevention" family dinner, or make a "Cancer Prevention Salad."  Family meals can be a cost-effective intervention for weight management. Evidence suggests that regular family meals protect against unhealthy eating and obesity in children. If time or schedule is challenging, get your teens and/or other family members involved.
Start or improve your weight management plan and actions. Make sure to have a balanced diet and exercise regime.
Enjoy an "Exercise Day" or "Move Day," and at least, consider taking a 30-minute walk.
Take a "NO JUNK FOOD Day," and limit red meats. Then do it often.
Drink filtered tap water at home. Drink plenty of filtered water away from home too.
Drink tea to replace sugar-rich beverages.
Better: Have a "Triple Combat" day, by combining three intensive but joyful actions together.
Give your unexplained pain some TLC by paying attention to it, tracking its duration, frequency or pattern, and scheduling a visit to your doctor.
Give cancer caregivers a token of love to honor their labor of love.
Write or speak to your local/national legislator or lawmaker about a policy idea to make food systems safer or make the environment safer.
Speak out or stand up against any external source that potentially promotes cancer.
Volunteer for a cancer fundraising or a cancer care center.
Support the great cause of fighting cancer in any form you can.
Parents and teachers: Advise your girls and boys to vaccinate against HPV. Recommended vaccination starts at age 11 or 12.
Go along with proven strategies to prevent cardiovascular disease (CVD). Why?  Because doing whatever is practical or plausible to lower your risk of CVD will enhance your potential to reduce the risk of cancer. For instance, research findings indicate that proven preventive measures for CVD are identical to preventive actions for prostate cancer.
Take pancreatic cancer seriously. Based on the proposed "pancreatic injury−inflammation−cancer" pathway, it's critical to avoid risk factors such as smoking, chronic pancreatitis, diabetes, and obesity.   Pancreatic cancer remains a complex, lethal malignancy with the worst prognosis, and a lack of early diagnostic symptoms. It's also resistant to conventional chemo- and radiation therapies. The rate of its incidence is slowly increasing.
The list can go on and on…
By now, you likely see a clearly centered theme—prevention, which is the most cost-effective implement to fight cancer.
Remember: Cancer doesn't develop overnight. It's vitally essential to stick to a healthy lifestyle. Take protective measures such as enjoying a balanced diet, regular physical activity, and a healthy weight now and far beyond World Cancer Day.
And yes, every single small step counts! It's a life-course approach.
Image credit: Designer at <a href="http://www.freepik.com/free-photos-vectors/medical">Medical vector designed by Ibrandify – Freepik.com</a>